Het Actiecentrum, irritante meldingen of een handige plek om de meest gebruikte instellingen te vinden.
Notitie linkt meteen door naar OneNote, wat best handig kan zijn als je even wat wil noteren. Tijdens een  vergadering snel je scherm casten naar een tv of beamer is ook zo gedaan via het actiecentrum.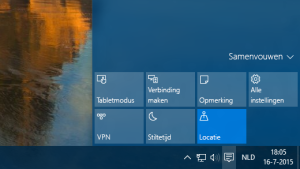 Naast alle snelkoppelingen vind je ook de bekende performance meldingen, schakel a, b en c uit om je pc sneller te maken, tja als je het qua snelheid moet hebben van het uitschakelen van apps is het meestal alweer tijd voor een herinstallatie van Windows of een nieuwe pc met Windows11,12 of 13 … of zouden we echt voor altijd en eeuwig Windows 10 behouden? Microsoft heeft in 2015 bevestigd dat Windows 10 de laatste versie van Windows is die continu wordt geupdate maar nooit meer een nieuwe naam krijgt.
Windows as a service is een abonnementsdienst die bij een geldig abonnement recht geeft op de laatste updates.