Voorkom dat gedownloade bestanden worden geblokkeerd in Windows 10,  bijvoorbeeld excel exports vanuit Exact Online
Standaard voegt het besturingssysteem Windows speciale metadata toe aan alle bestanden die u downloadt van internet, gedownloade bestanden worden geblokkeerd. Later, wanneer u probeert om het gedownloade bestand te openen of uit te voeren, voorkomt Windows 10 dat u het bestand direct opent. Soms doordat u een leeg scherm krijgt in de applicatie die het bestand moet openen, zoals in Excel, en soms toont Windows je een beveiligingswaarschuwing dat het bestand afkomstig is van ergens anders en onveilig kan zijn. Op een gegeven moment ben je het zat om alle bestanden te deblokkeren en door alle waarschuwingen heen te klikken, zeker nu bijna alle bestanden van het internet af komen.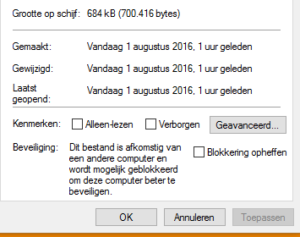 De metadata die wordt toegevoegd aan het gedownloade bestand wordt "zone informatie" genoemd. Het is een onzichtbaar bestand opgeslagen als een alternatieve gegevensstroom in hetzelfde gedownloade bestand om aan te geven dat het bestand afkomstig is van een netwerk. Elke keer dat File Explorer het bestand opent, leest Windows de bijgevoegde zone informatie en controleert of het kwam van "buiten". In dat geval wordt het bestand geblokkeerd of lrijgt u een waarschuwing
Hoe kan ik bestanden gedownload van internet in Windows 10 deblokkeren.
Een individueel bestand kun je deblokkeren door met de rechtermuisknop op het bestand te klikken en op het tabblad Algemeen, helemaal onderaan bij Beveiliging staat de tekst: "Dit bestand is afkomstig van een andere computer en wordt mogelijk geblokkeerd om deze computer beter te beveiligen". Rechts daarvan kun je een vinkje aanzetten bij: "Blokkering opheffen". Daarna is het individuele bestand weer normaal te openen.
Als je u volledig wilt voorkomen dat Windows zone informatie in de alternatieve datastroom van het bestand toevoegt zodat het niet nodig is om dergelijke bestanden te deblokkeren, ga dan als als volgt te werk:
Ik wil dat gedownloade bestanden nooit meer geblokkeerd worden.
Met gebruik van de Editor voor lokaal groepsbeleid
Open Group Policy Editor door te typen gpedit.msc in het menu Start.
Ga naar Gebruikersconfiguratie -> Beheersjablonen -> Windows-onderdelen -> Bijlagebeheer.
Dubbelklik op het beleid van de instelling "Zonegegevens in bestandsbijlagen niet behouden". Schakel het in en klik op OK.
Zonder gebruik van de Editor voor lokaal groepsbeleid
Als uw Windows 10 editie wordt geleverd zonder de Group Policy-app, kun je een eenvoudige register tweak toe te passen in plaats daarvan:
Open de Register-editor,  ga naar de volgende registersleutel:
HKEY_CURRENT_USER \ Software \ Microsoft \ Windows \ CurrentVersion \ Policies \ Attachments
Als je niet over een dergelijke sleutel beschikt, dan kun je die gewoon maken.
Daar maak je een nieuwe DWORD-waarde met de naam "SaveZoneInformation" en zet de waarde op 1. Daarna zullen gedownloade bestanden met behulp van browsers (of download managers) niet meer geblokkeerd worden, zodat het niet nodig is om dergelijke bestanden telkens weer te deblokkeren.  Je hebt er nu geen last meer van dat gedownloade bestanden worden geblokkeerd.
Zie ook:
https://help.exactonline.com/leg-nln/nl/all/Content/General/ImportExport/Gen_ImpExp_ExCSVXLSTroubleR.htm